Last year TeaVire took a visit to Tian'mu Mountain in Lin'an, Hangzhou, which breeds our high quality Organic Superfine Dragon Well, Organic Mao Feng, and Tian'mu Qing Ding. The beautiful organic place never stops attracting us. On March 24, 2014, Chris and Angelstart their journey to Lin'an again.
Early spring, on 24 March, we teavivre.com paid a visit to Hangzhou. This is our second visit to this lovely place. Hangzhou is famous for its beautiful rive-side scenery and splendid culture, and attracts a huge number of tourists home and abroad every year. Spring and early summer is the best time to visit Hangzhou, as everything is booming in this period. There is an old Chinese saying that "above is heaven, and under is Su Hang" and the "Hang" refers to Hangzhou.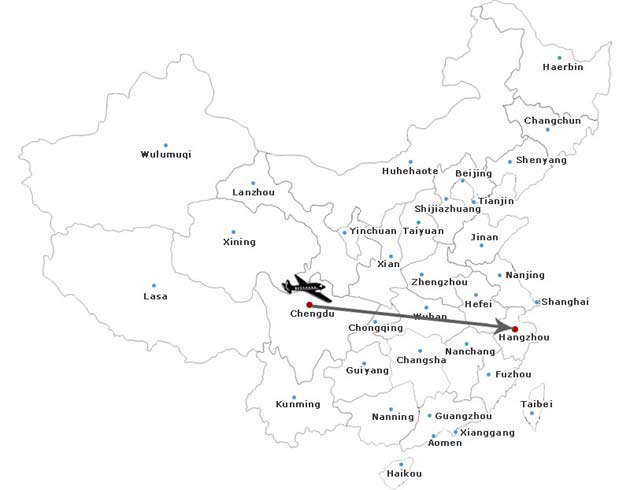 The First Day: Arrive at HangzhouMarch 24, 2014
Hangzhou is truly a flourishing city in Spring. Flowers at the West Lake has grown and come into full blossom. We took a rest there in the afternoon, preparing ourselves for the next day's journey to the Dragon Well tea's origin place: Shifeng Mountain in Meijiawu Village.
One and the most important task for us is to look for a comfortable hotel after we step off the plane. Half an hour later, we find the best one. Upon stepping in the this, the tranquility released by this marvelous place is palpable as most everywhere. Suddenly, it seems that all our fatigue has been sent away and bring us the framework of peaceful mind.
It is a obvious Jangnan style hotel. it is not big and expensive but enough exquisite, all things you can see seems to be soaking in traditional culture and cultural richness for a long time.
The following two pictures were taken in the hotel.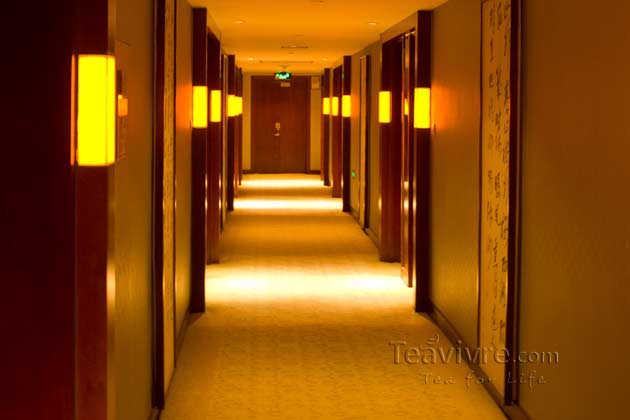 Chinese calligraphy and Kong Ming lanterns embedded in the wall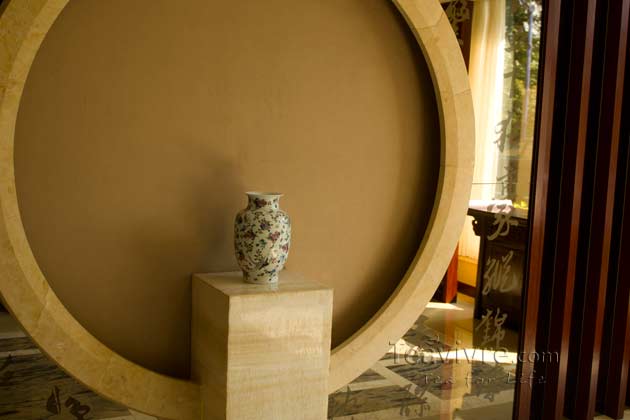 Large glass screen written with Chinese calligraphy and exquisite Chinese vase
It's sunny. All things looks to be full of vigor. It's a pretty and active city. The transportation within this city is very convenient with various options. But this time, attracted by the scenery along the road,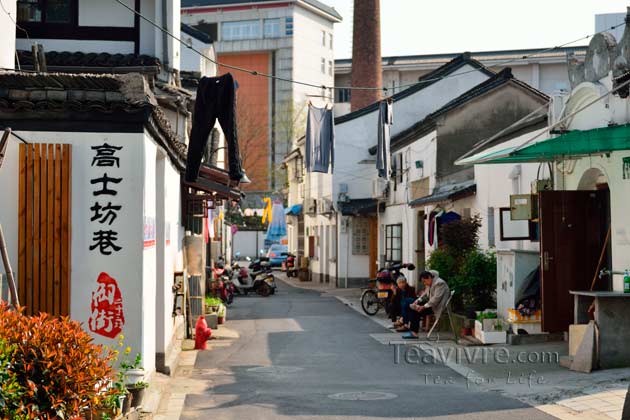 The serenity of the ancient lane with two local residents in the early morning light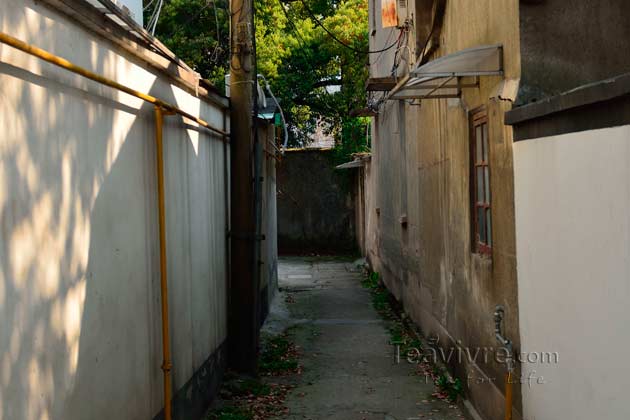 The ancient Jiangnan residence building against the modern building
On the way to West Lake.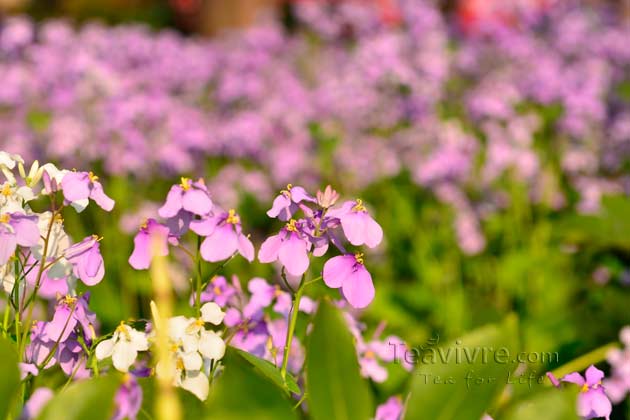 The bright flowers announced the appearance of Spring.
As we planned, there is no doubt that the first place we want to visit is West Lake. People always associate Hangzhou with the West Lake, which has influenced poets and painters throughout China's history for its natural beauty and historic relics.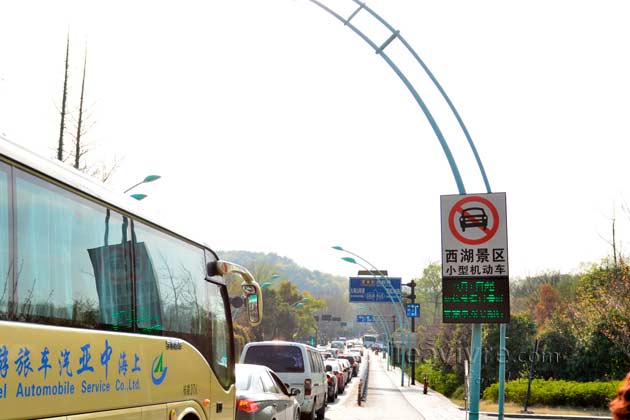 The shuttle bus within the west lake region.
After half an hour, we finally arrived at the West lake.(West Lake is a freshwater lake in Hangzhou, the capital city of Zhejiang Province in eastern China. There are numerous temples, pagodas, gardens, and artificial islands within the lake.)
It was early morning here. You can see from the following pictures. There already were many people here. No wonder there's an old saying says that "Be born in Suzhou, live in Hangzhou, eat in Guangzhou, die in Liuzhou." The meaning it lies in the fact that Hangzhou was renowned for its beautiful scenery.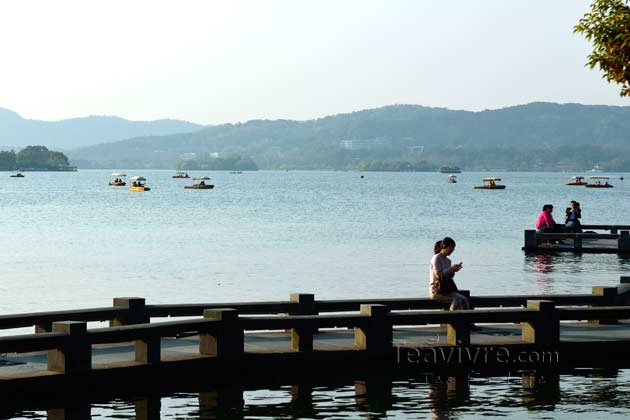 Morning At 9, Strolling in the Park. Every things looks so beautiful. It is a true paradise of colors. I cannot help but taking some pictures of those lovely trees.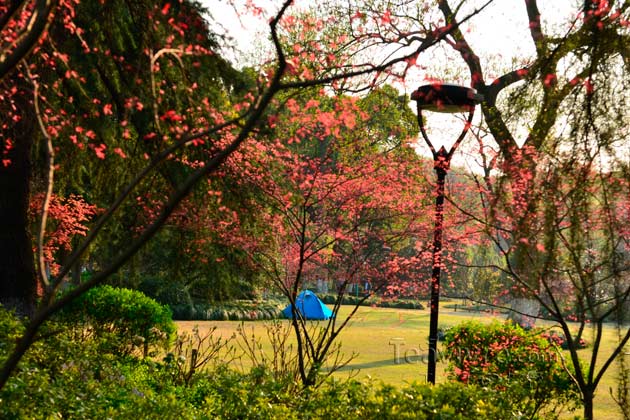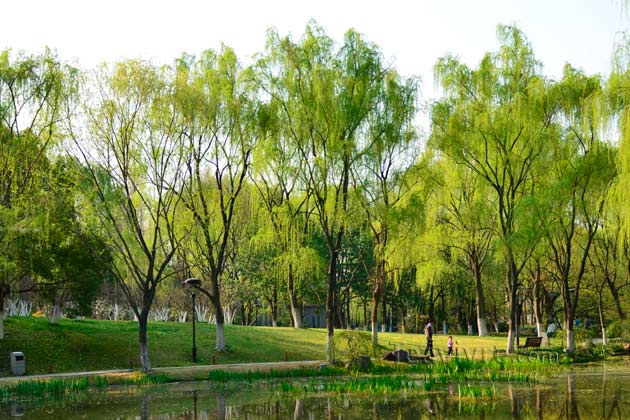 An hour later, we finally saw the Leifeng tower. It has been my fondest wish for years. Leifeng tower located on the Nanping mountain is a must of travel to the Westlake because of its sunset sights and the beautiful sad love story between the white snake genie and an young scholar.
Once upon a time on E-Mei mountain there lived two snake spirits, White Snake and Green Snake. When they arrived at West Lake they met a man named Xu Xian. White Snake quickly fell in love with Xu Xian and they were soon married. But the Fahai, an arbitrary Buddhist monk, thought that their union violated the traditional marriage, so he sent army descending from Heaven to capture the white snake and held her below the Leifeng tower for many years. Finally, with the help of her sister Green snake, the white snake was rescued.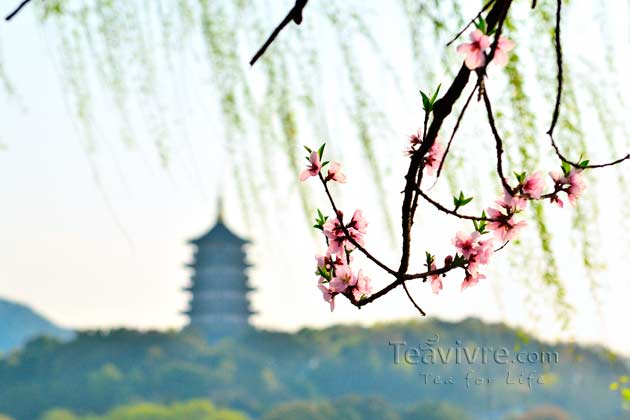 The misty Leifeng tower in the distance.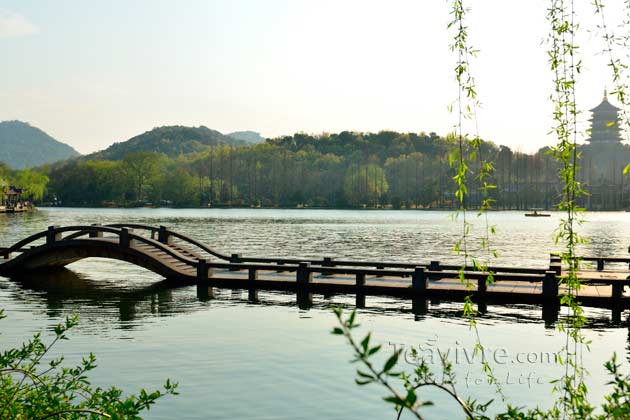 Magic water makes wonder. It's absolutely right. The ancient Eastern pagoda, limpid water of the lake, the ingenious wooden bridge limber willow, is an elegant art piece.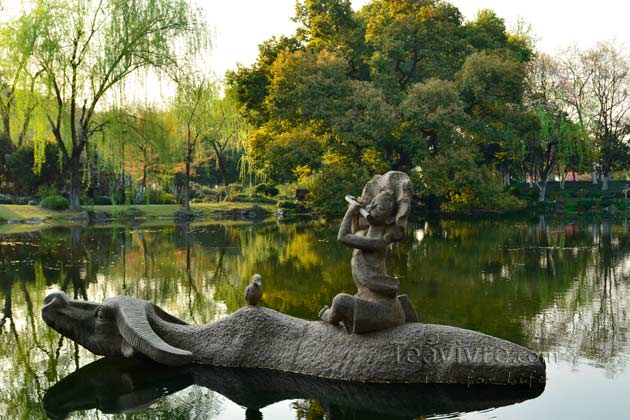 The shepherd, water buffalo and limpid water improvise a pastoral poem.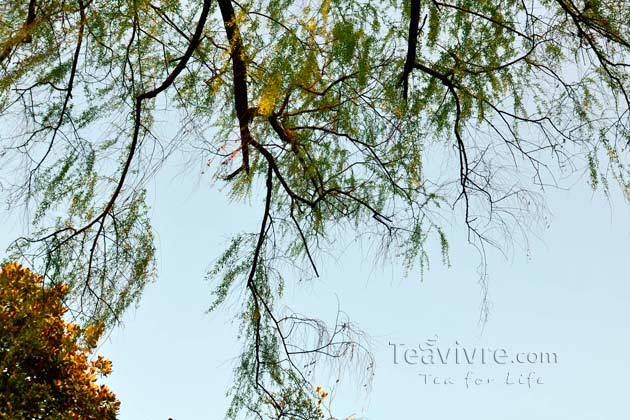 Time goes fast, it is near lunch time, we feel a little bit hungry. Following the scent floating in the air, we finally arrived at the paradise of snacks. The nearby snack streets are always ready for every guest.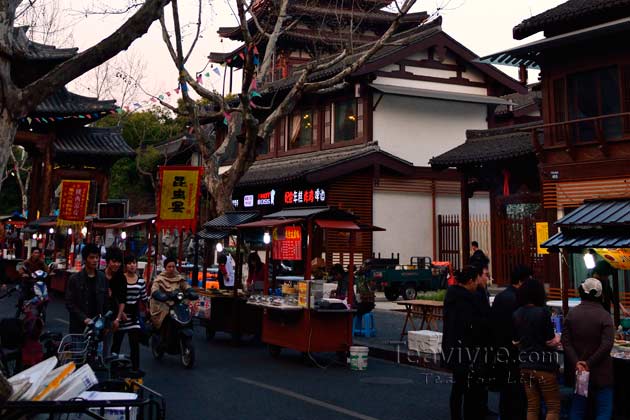 Lunch time, on the snack street near West Lake, huge crowds were enjoying various kinds of snacks. Every stand has a different kind of Chinese snack.
The Second Day: Arrive at Shifeng MountainMarch 25, 2014
Here, every house has a house number, we stopped at the door #40 for a few minutes and chatted with the hostess about the new teas.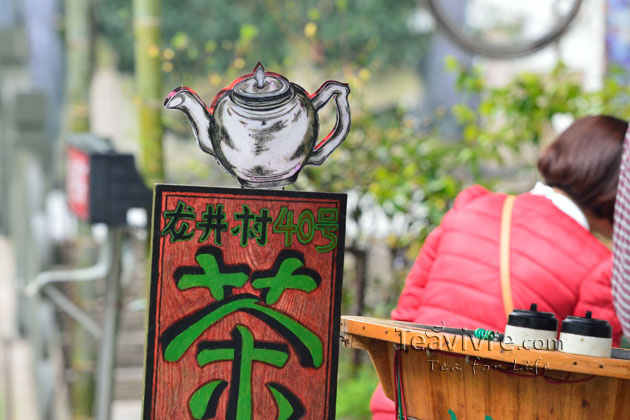 Pictures from the scene showed the whole traditional process of tea-making, presented by the local tea farmers.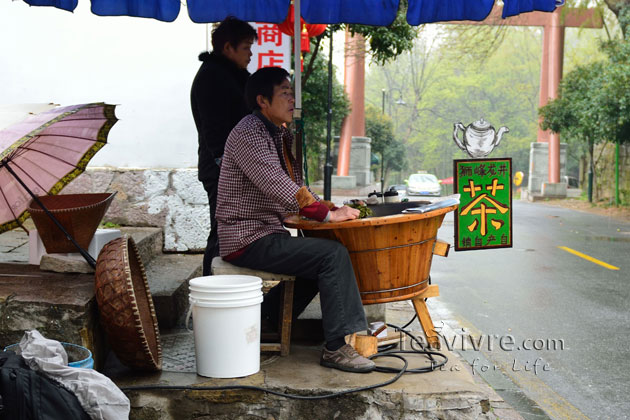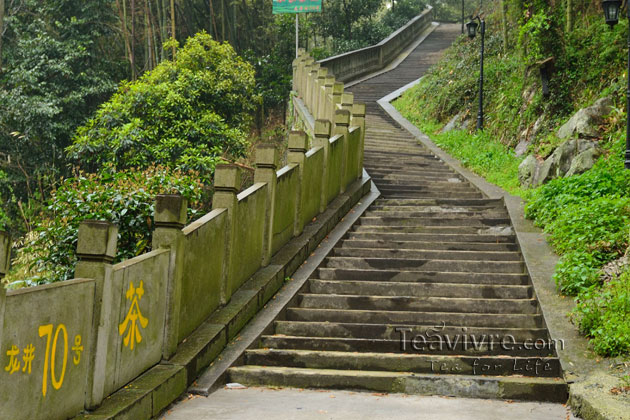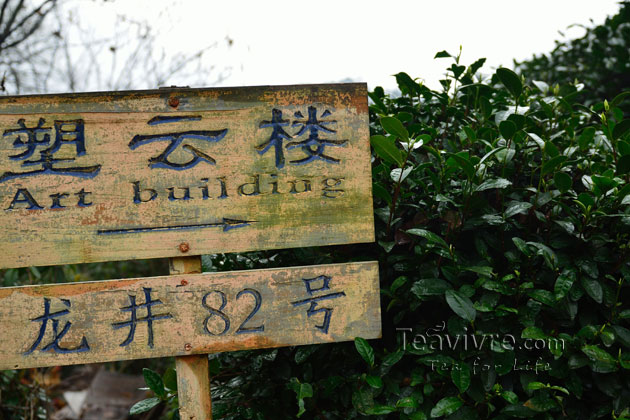 Longing village NO.239
Attracted by a burst of melting, fresh-grassy tea aroma. We can not help but climbing up to the second floor where we are embraced by a kind of fragrance immediately. Finally ,we learnt that this sweet aroma was send out by the 2014 spring tea.
Ms.liu ,the hostess of this house , received us with great enthusiasm. He showed us the tools by which they make good teas with traditional skills, which handed down from generation to generation in this small village. Those tools are very common in this place, all hand-maded.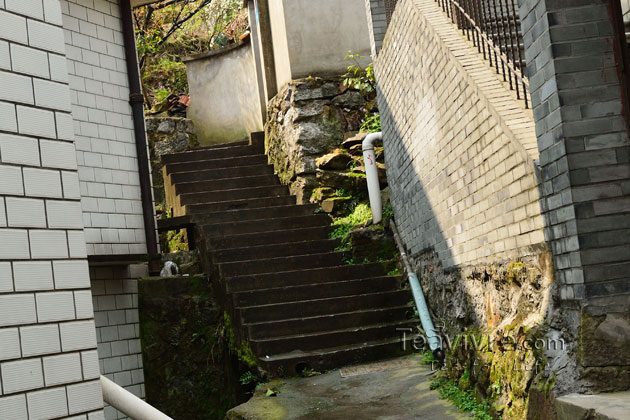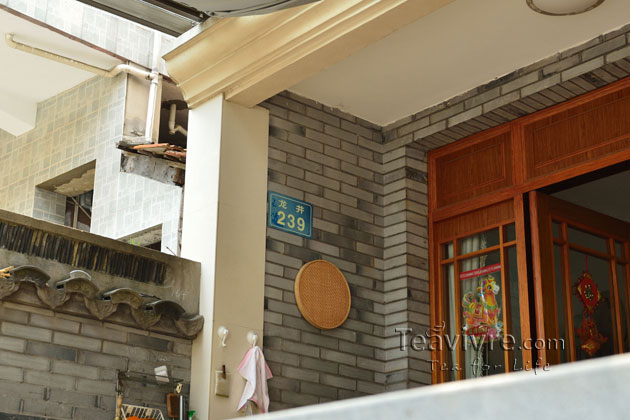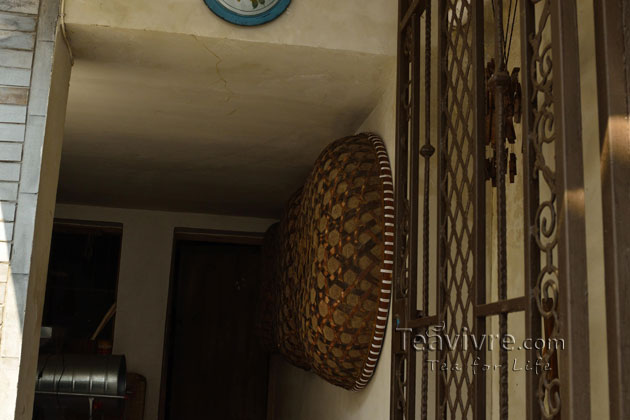 Then , she invited us to a small room where some teas were being processed.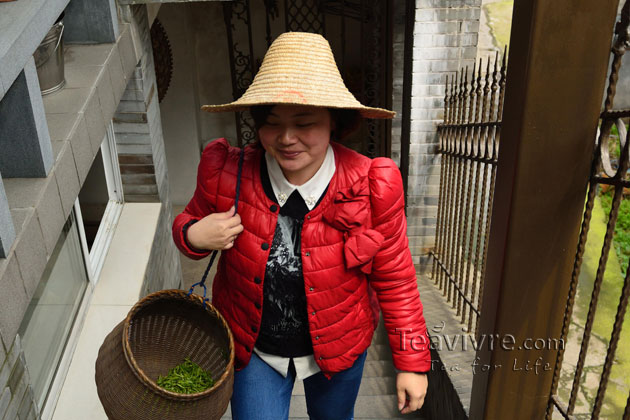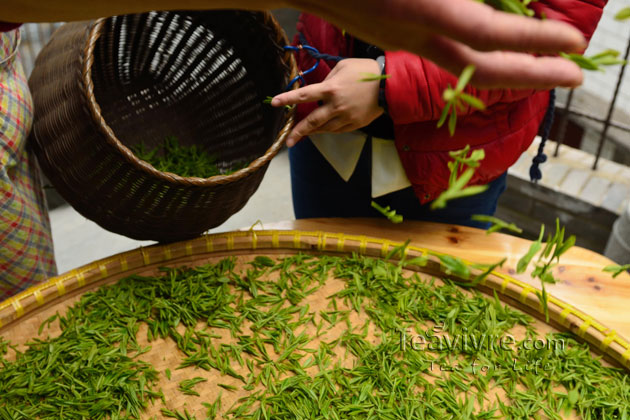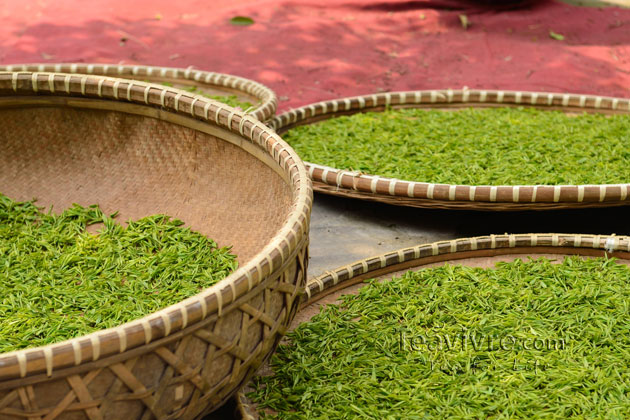 A great cup of Mingqian longing tea can produce a kind of sweet, fresh aroma, with clean and well-balanced aftertaste.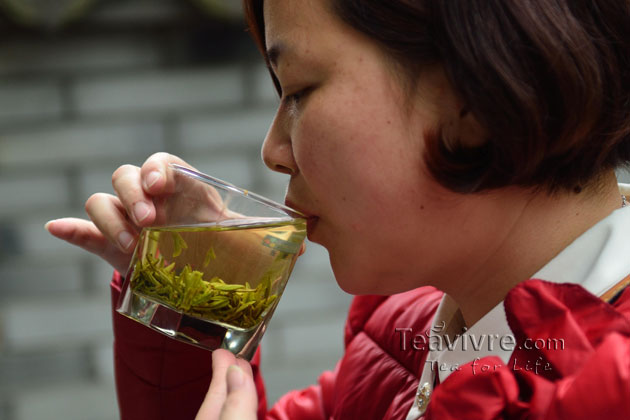 Mrs.liu led us to the local tea garden.
Longing village- the modern Agricultural Demonstration park of Hangzhou. And now this is the first-grade Nature Reserve for the dragon well tea, which covers an area of 798 mu((52hectares), established by Hangzhou Municipal Government.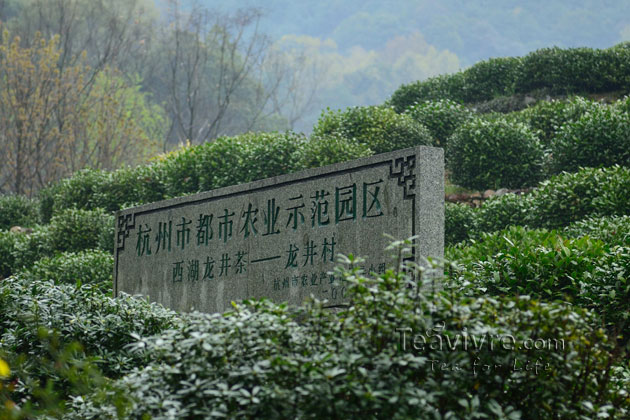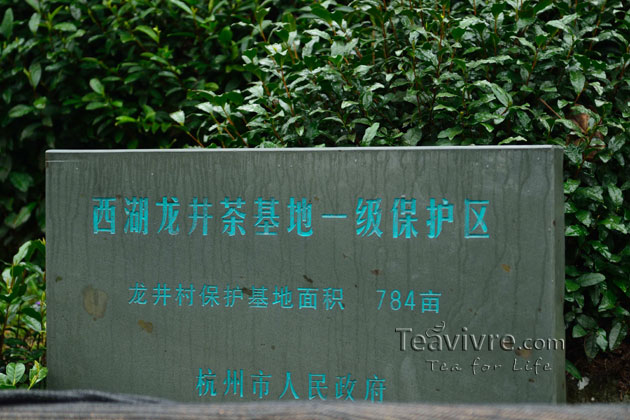 It's a great day. Some local farmers are busy with picking tea leaves in this tea garden.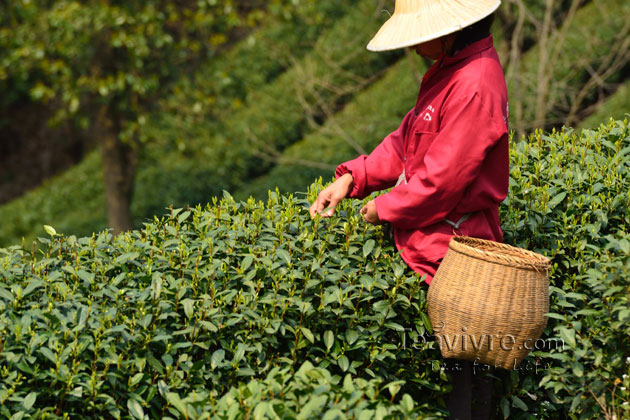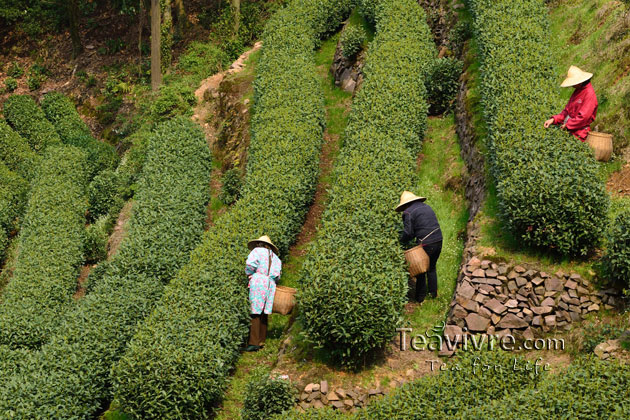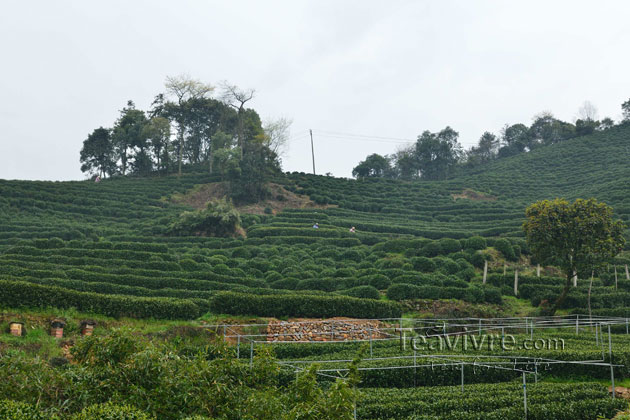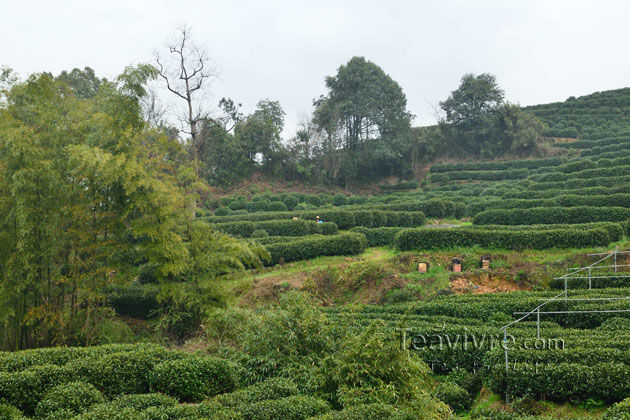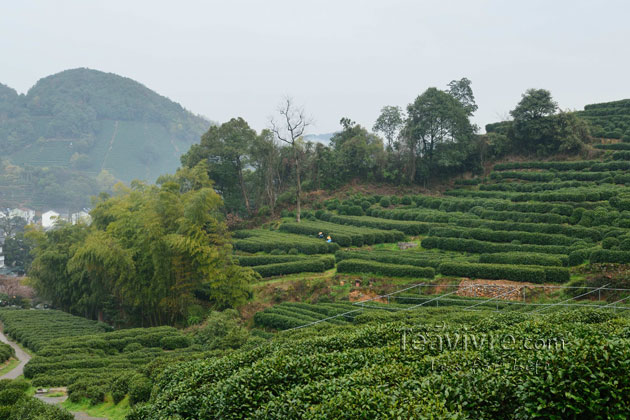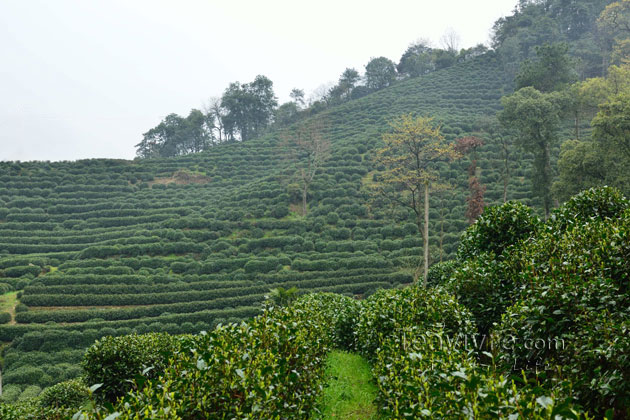 this tea garden are situated on those small mountains ,mostly of them have an altitude of 300m above sea level.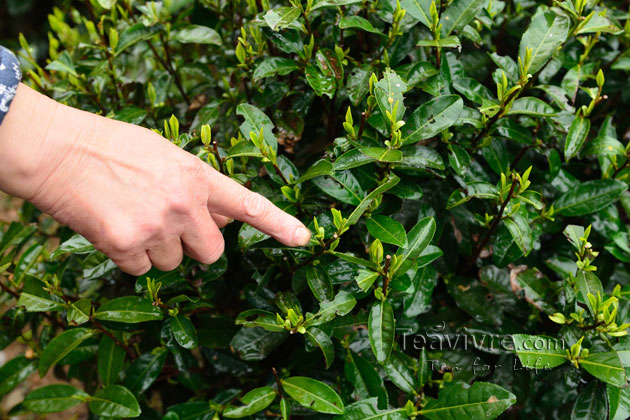 Delicate tea buds are ready for picking.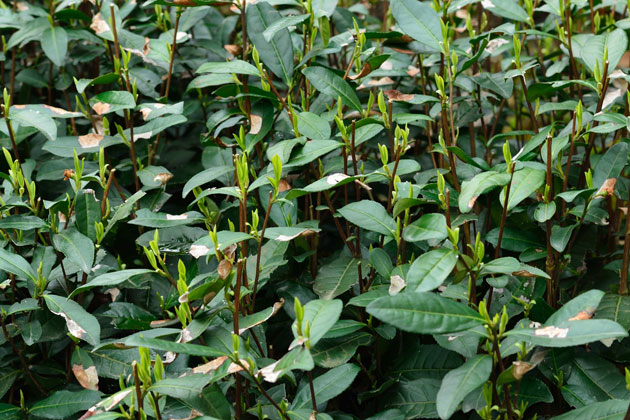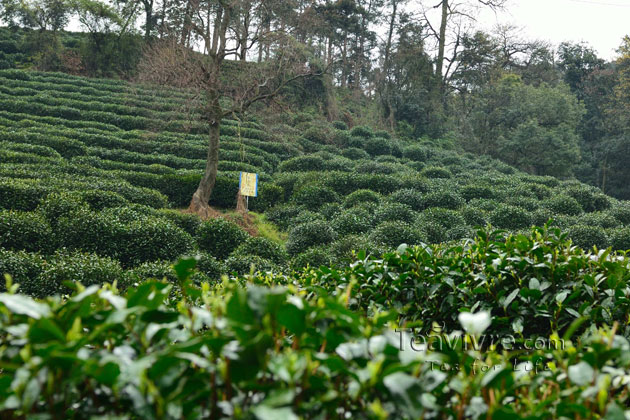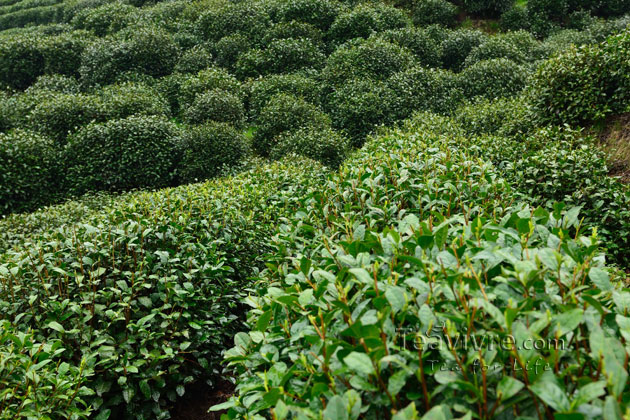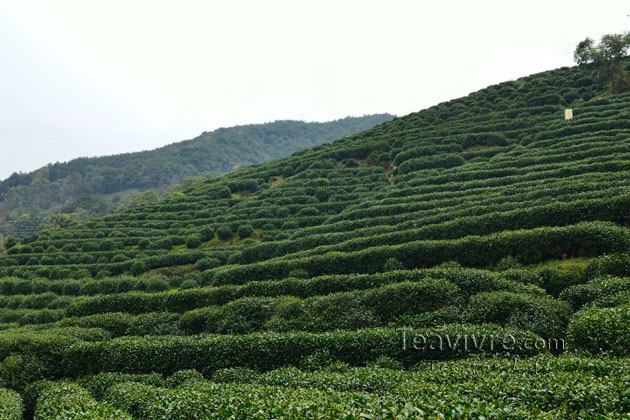 The sunshine interchanges with periods of light rain, A light rain began to fall. This is the best time for picking, after putting on raincoat, these farmers continued to their work.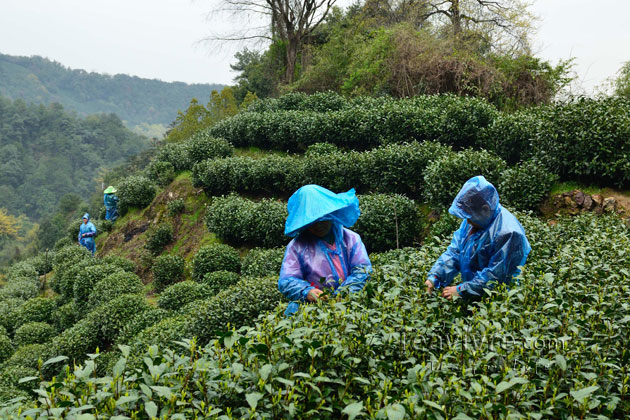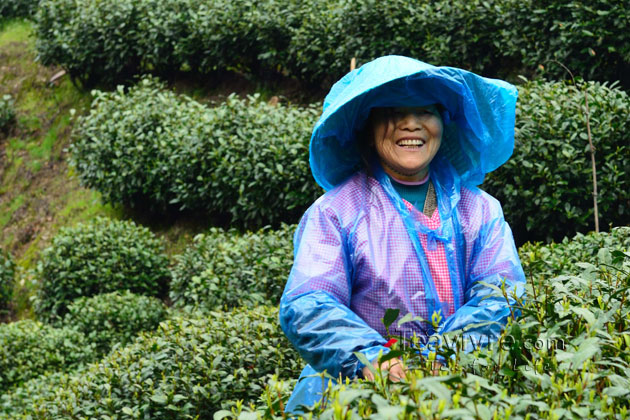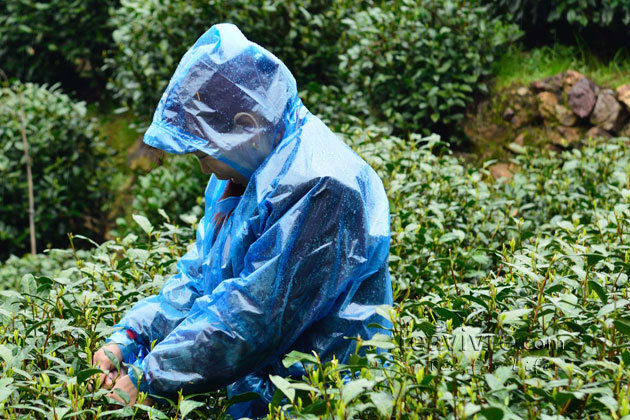 Delicate tea buds mixed with spring drizzling rain indicated a good harvest this year.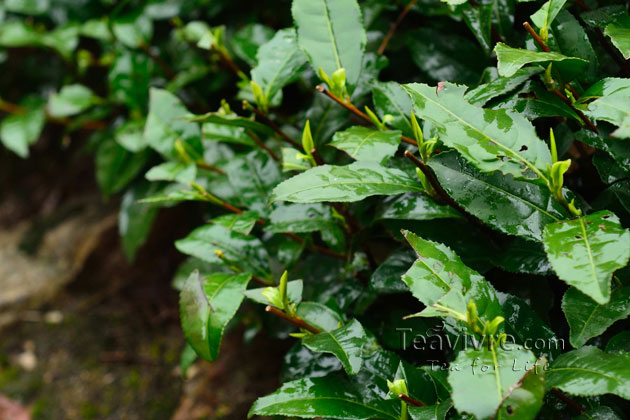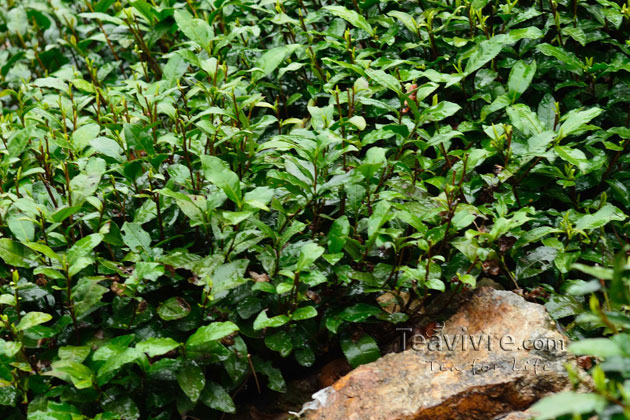 This mountain is not far from city , about 20km from city, but the vegetation coverage here is very high.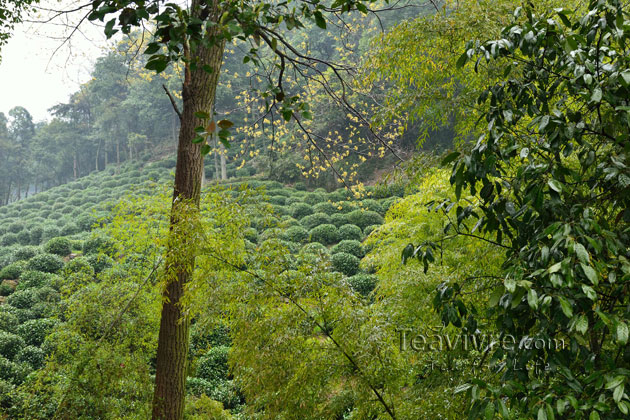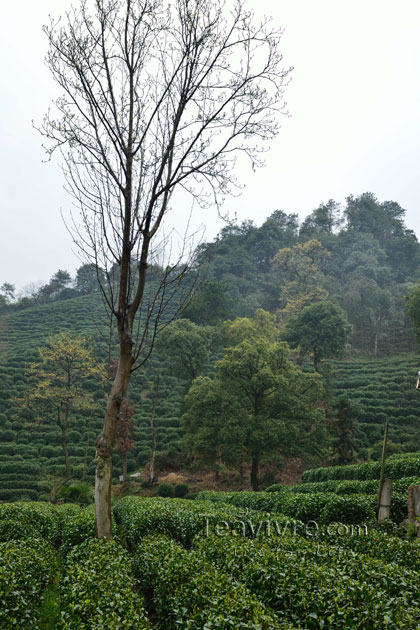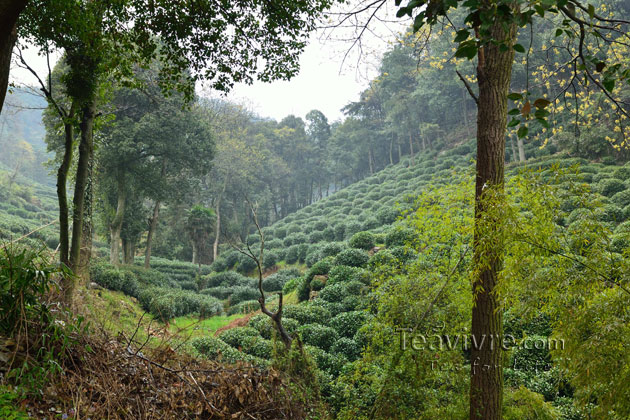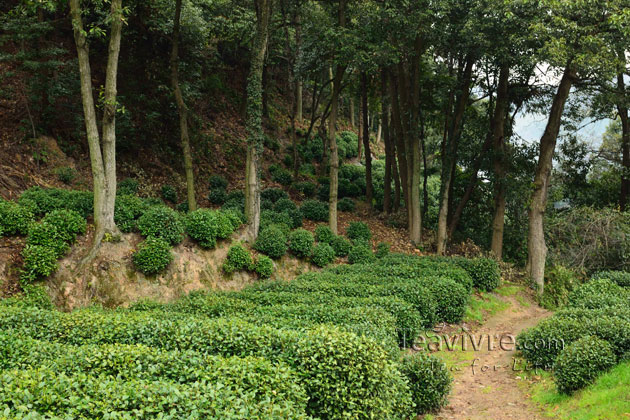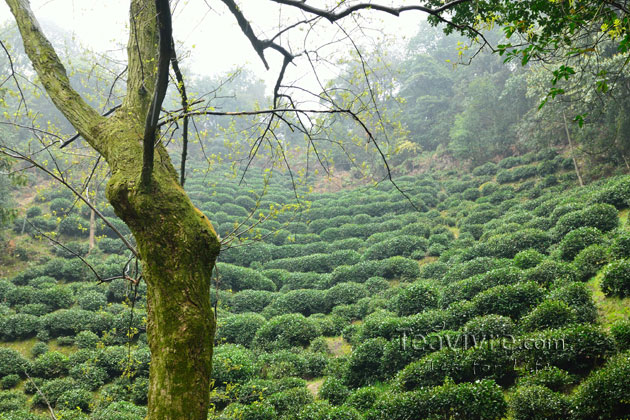 As the sun was setting under a golden sky, those farmers decided to return to home.
With fresh tea leaves in their baskets carried on their shoulders, they chatted with on another,
Laughing and exciting.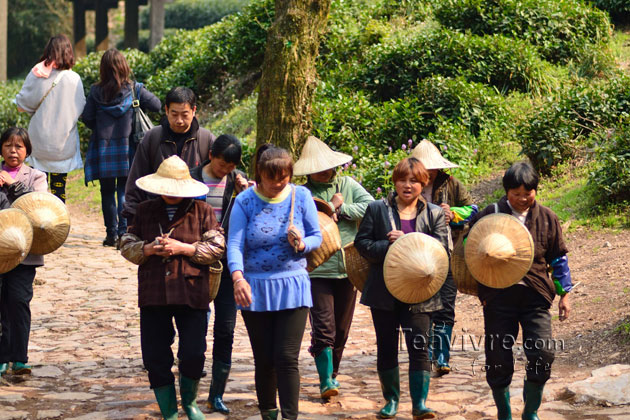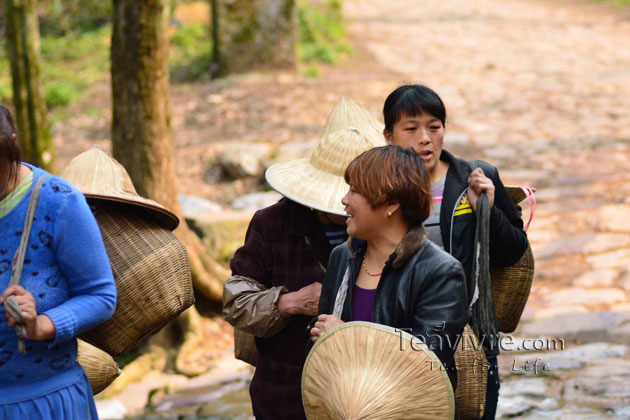 Although the quantity of output of tea is utterly slow . After one busy day, every skilled farmer can only collect about an half basket of tea leaves showed in this picture.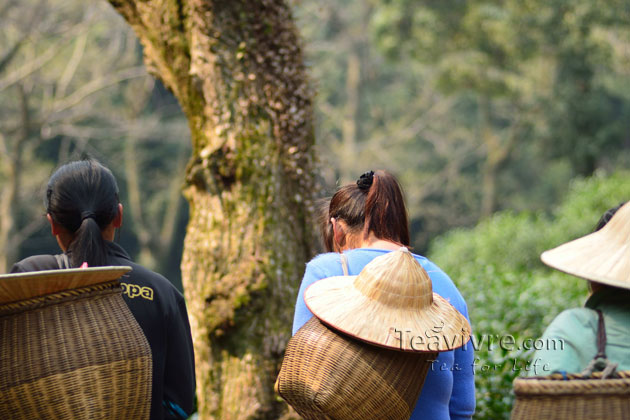 Finally we arrived at the old royal tea garden where Mrs. liu presented us more information about this place.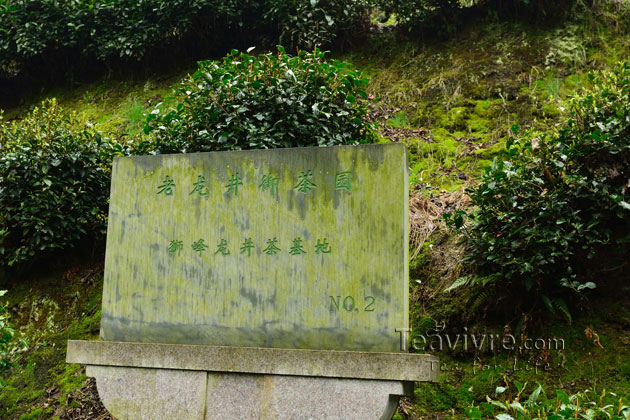 A pond of clear water. All tea trees depend on this pool for irrigation.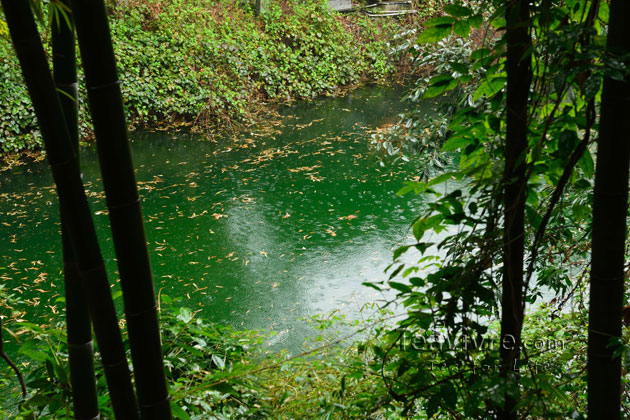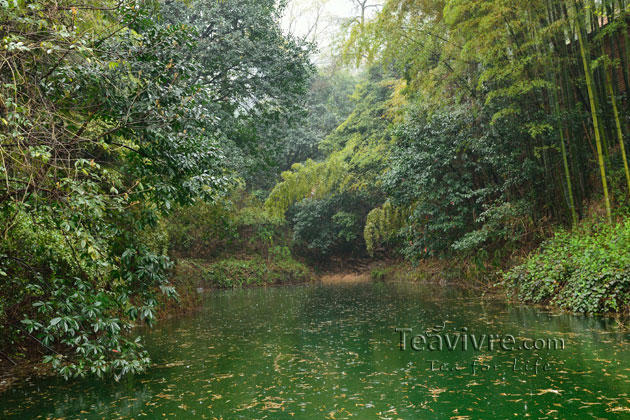 Today, we had the honor of seeing the legendary well. All legends about Longing tea is related to this well which you can see in this picture.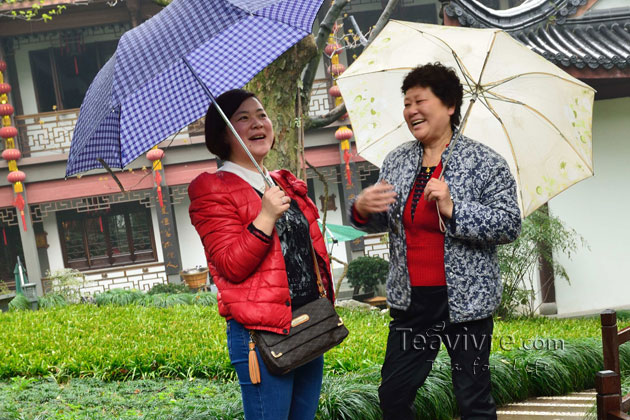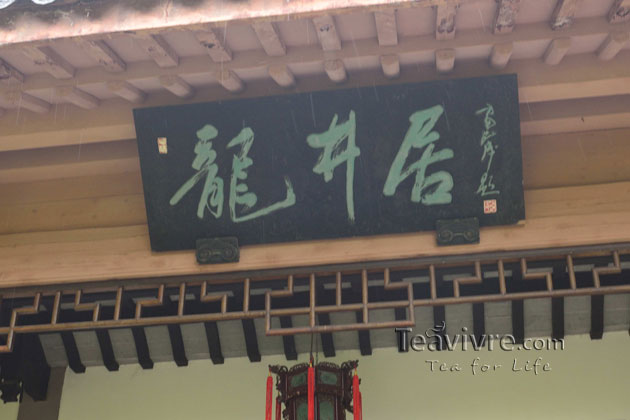 You can see many historical relics here.
Attracted by the well-known longing tea here ,Qianlong ,the emperor of Qing dynasty, visited here 200 years ago with his special purpose of looking for good teas.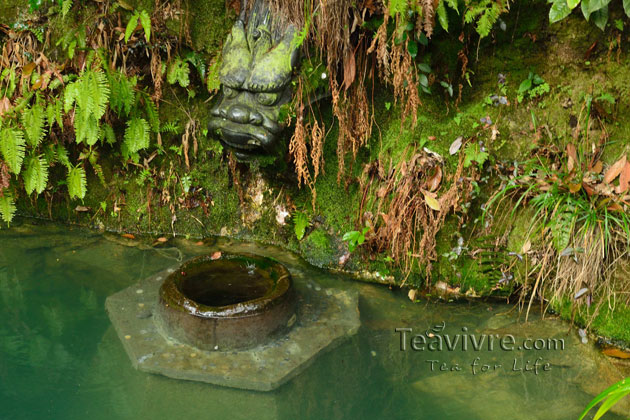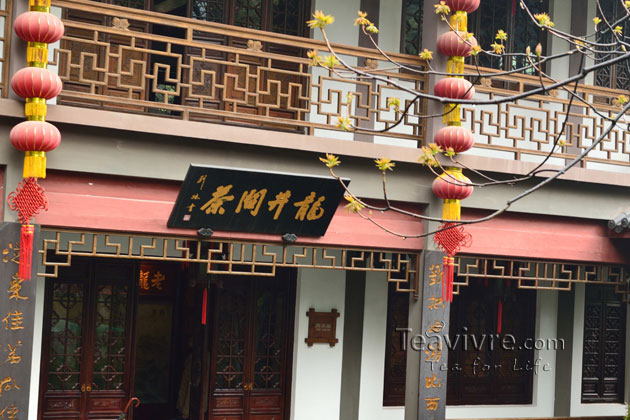 Old dragon well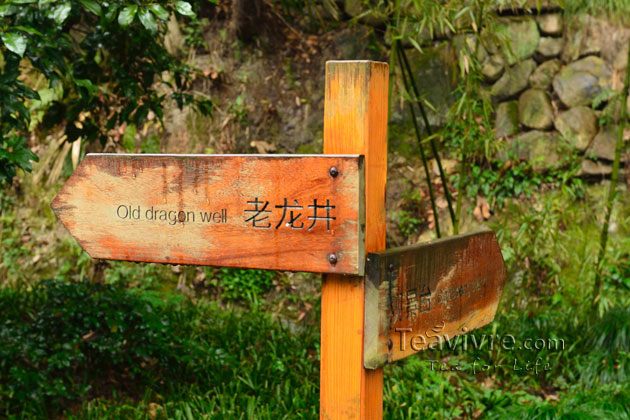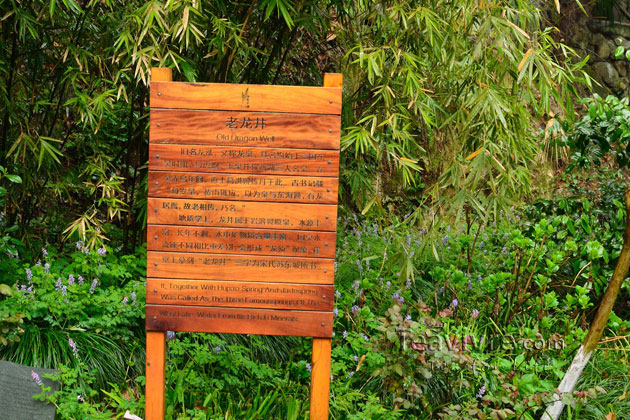 Royal dragon well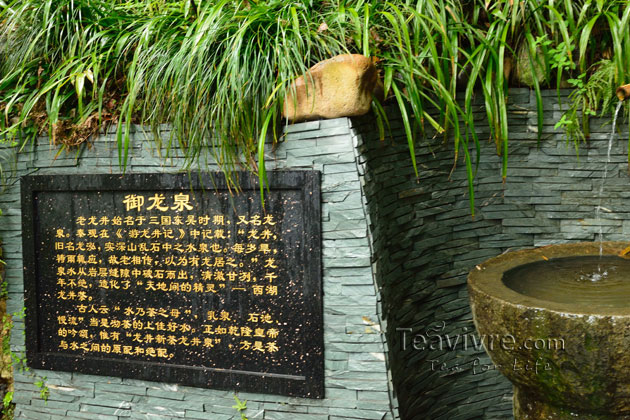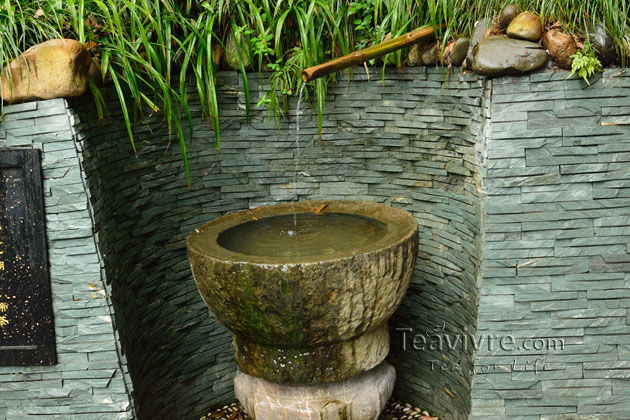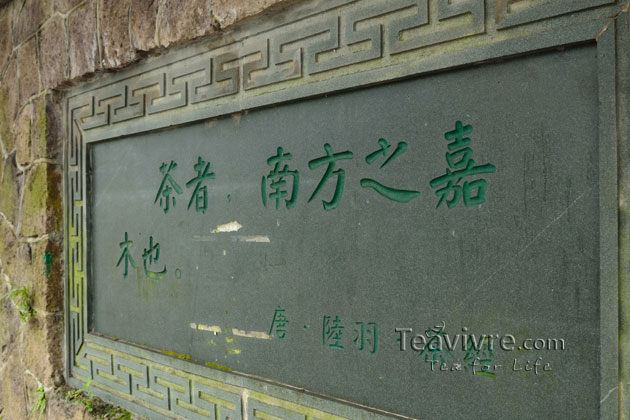 We have once reported a news of Hangzhou's long jing tea trees being fried by high temperature in 2013's summer. The disaster made us and many tea lovers worried about 2014's spring tea.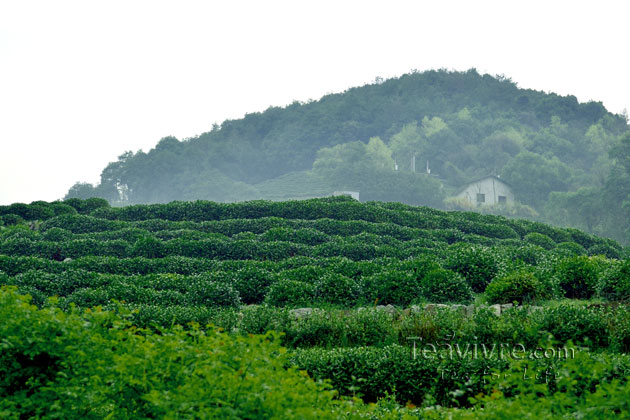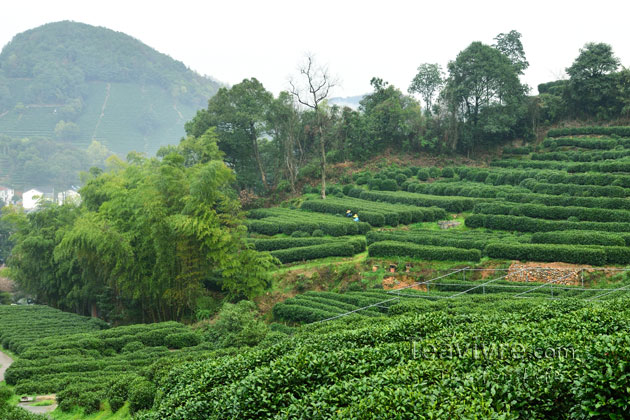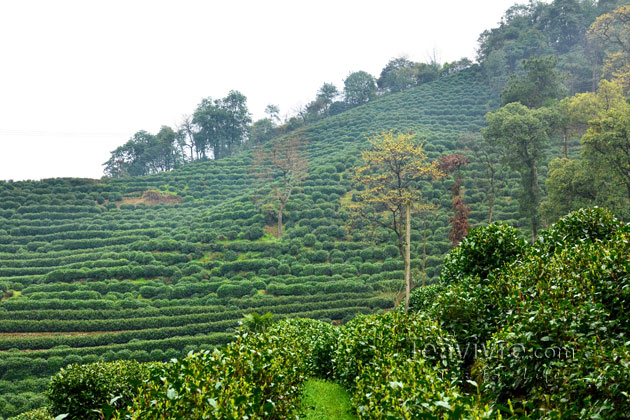 However, by arriving at the tea garden, we surprisingly found a large areas of green tea trees thrived so well as in former years. The fresh green view of spring fairly ease our worries.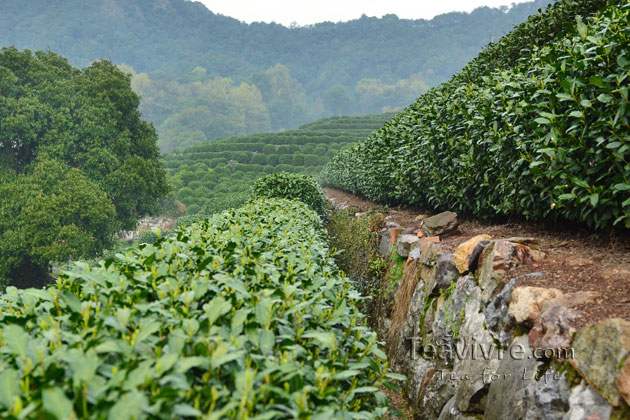 On March 25, the warm sunshine of yesterday didn't come out this morning. Instead it is drizzling. Rain drops fell on the tea leaves, revealing a more vivid view of life.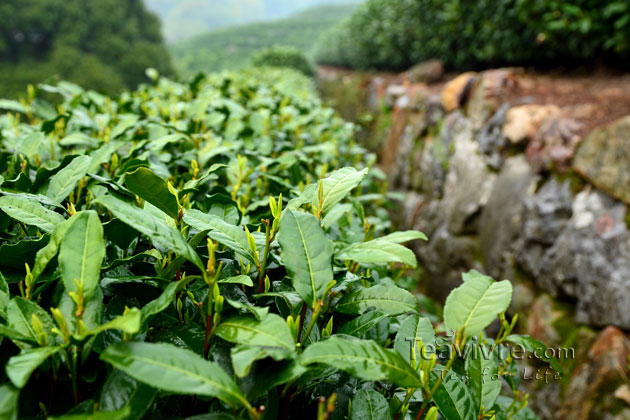 Tea farmers are picking the leaves in the drizzling rain.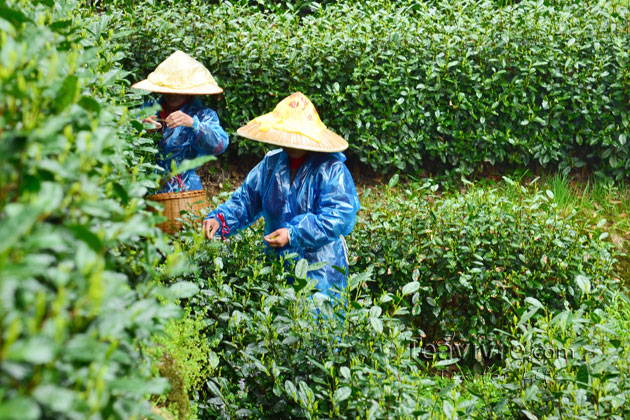 The lush tea trees on the mountain bespeak that the good harvest of this year's spring tea is not far off.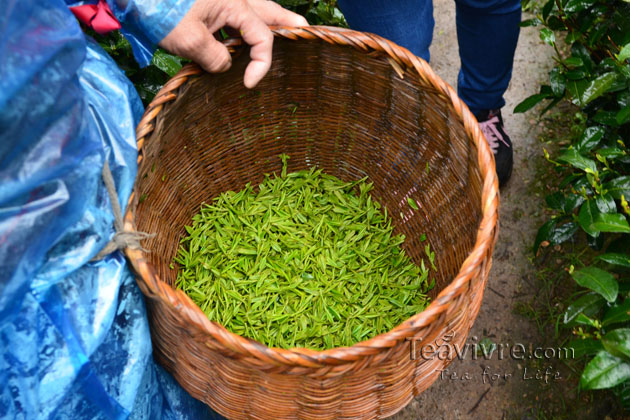 Fresh leaves just picked from the tea trees.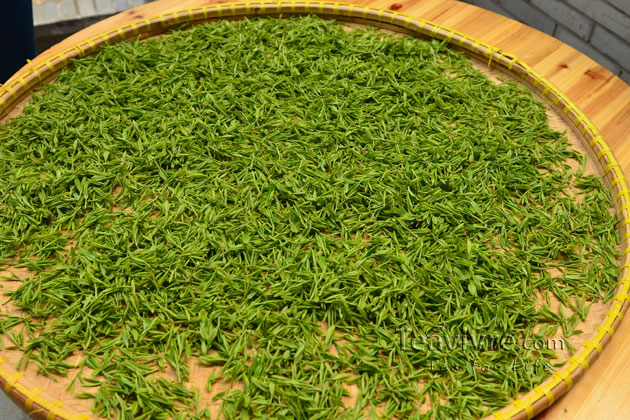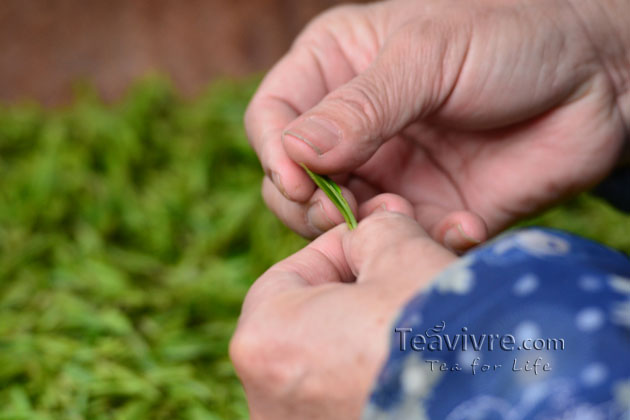 The tea maker is feeling the pan's temperature.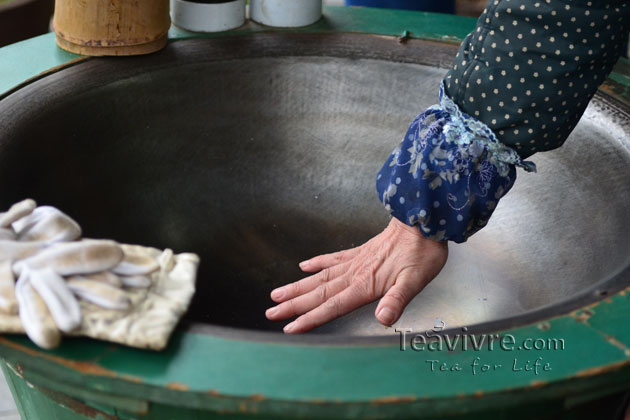 A quick pan-frying fixation.
It's like the cloud and mist are rising. This is the location of the legendary eighteen tea trees.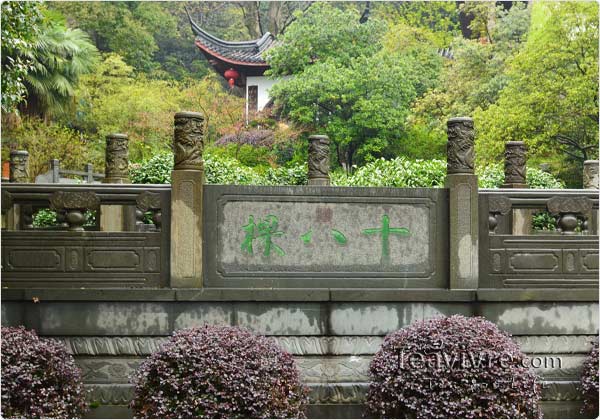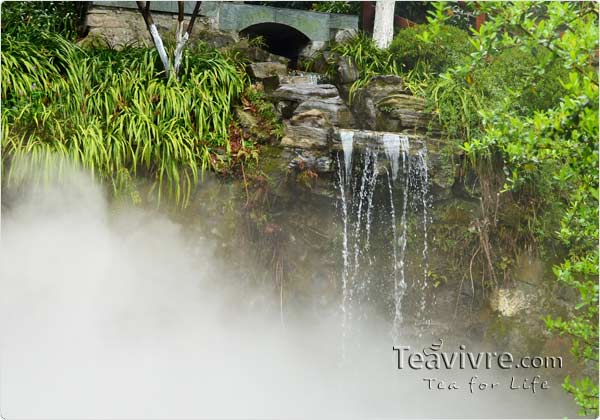 The Day 4: Visit Organic Tea Garden in Tianmu Mountain, Lin'an, Hangzhou.March 27, 2014